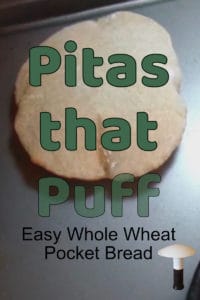 Follow this whole wheat pita bread recipe to make pocket bread   that puffs up consistently for delicious stuffed sandwiches. This is a reliable method for making easy homemade pita bread. They are so much fun when they come out of the oven all round and mounded. Making them with the dome is easy to quickly stir and knead the dough in under a minute. Next, roll them out with a rolling pin or wooden rod as shown in the video, then allow them to rest and rise for 15 minutes before baking them in a very hot oven. They'll puff for you too.
The whole wheat flour makes them more nutritious and I think, more delicious, but you can use this recipe to make all white flour pita bread too.
Click to watch my demonstration video on How to Make Whole Wheat Pita Pocket Bread on YouTube. It's under six minutes and explains it all.
Whole Wheat Pita Pocket Bread
I use some whole wheat flour in the recipe for that whole grain nutrition. These can be made entirely with All Purpose Flour as well; just use a little less water as specified below.
Ingredients
11

oz

water

1¼ cups + 2 tbs of water

.3

oz

active dry yeast

2¼ tsp

.2

oz

salt

1½ tsp

.2

oz

sugar (optional)

1 tsp

1

oz

vegetable oil

3 tbs

8

oz

All Purpose flour

1½ cups

8

oz

Whole wheat flour

1½ cups
Instructions
Place the water, yeast, salt, sugar, and oil in a bowl. Stir well until all is dissolved.

Add the white All Purpose and whole wheat flours and stir them into the liquid until both of the flours and the liquid are well blended. If using all white flour use less water ½ oz or 1 tbs less water.

Knead the dough for about 45 seconds. Use the dome if you can.

Cover with plastic wrap and allow the dough to proof until doubled in volume. This will take anywhere from 45 minutes to 1½ hours depending on the room temperature.

When doubled in size, scrape the dough onto a well-floured surface and roll it into an oblong cylinder about 8 inches long and 3-4 inches wide.

Divide the dough into 8 pieces and roll these between your hands into smooth balls. Place the balls on a flour-dusted surface so they don't stick.

Dust a rolling pin or wooden rod with some flour and begin to roll the balls into round pitas on a flour-dusted surface. Roll only in one direction and stop a little short of the edges. Don't roll over the edges of the pita. Then turn the piece a quarter turn and roll again in that same direction. Repeating the turn and roll, turn and roll, over and over until the pita is 6 to 7 inches in diameter and slightly less than ¼ inch thick. Place the rolled-out pitas on some flour to prevent them from sticking to the surface.

Allow the pitas to rise for 15 minutes. At some point in this time span, preheat the oven to 500° F.

After the 15 minute rising period, bake the whole wheat pita pocket breads in the order in which they were rolled out to even out their rising time.

Bake them on a cookie sheet two or three at a time for 4 to 5 minutes. Make sure the oven recovers to 500° before adding the next batch.
Watch my Video demonstration of this recipe.
Subscribe to this blog for more delicious recipes and videos
Learn more about the Dome Dough Maker