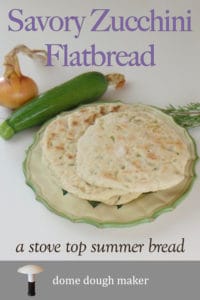 Savory zucchini bread is a great summer baking project. Make this great fresh bread without turning on your oven and heating up the kitchen. It's stovetop baking at its finest. This tasty zucchini flatbread is spiced up with shredded zucchini, herbs, and onion. And it's a healthy zucchini bread. No sugar, no oil, but packed with savory, fragrant and delicious flavor. Try this easy and unique twist on the usual sweet zucchini bread fare. It's a vegan zucchini bread as well. Uses up some zucchini too, if you have an over-productive zucchini patch.
You'll see how simple it is to make this easy sugar free zucchini bread in this video demonstration.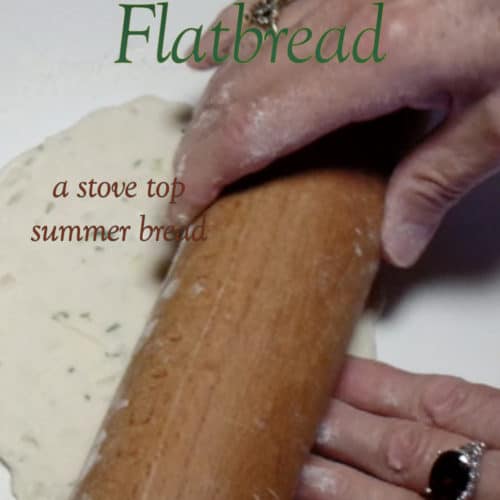 Savory Zucchini Bread
An easy flatbread recipe with minced zucchini, onion and herbs that are cooked on the stovetop.
Ingredients
½

cup

shredded zucchini 

38 oz 

¼

cup

finely minced onions

1.5 oz

1

tsp

rosemary or other herbs

1

tsp

salt

.2 oz

½ +  1/8 

cup 

water

6 oz

2 ½

cups

All purpose flour or a mix with some whole wheat

12 oz
Instructions
Shred the zucchini and mince the onion and herbs.

Place water in a mixing bowl. 

Add yeast and salt and stir to dissolve them.

Add the zucchini, onion, and herb and stir well.

Pour in the flour and mix well until the flour is all moistened. The dough will be stiff until the zucchini releases its water. You can substitute a cup of whole wheat flour, but if you do, add another 2 teaspoons (.3 oz) of water to the recipe.

Knead with the dome for about a minute.

Cover with a heavy wet cloth and allow the dough to double in bulk.

Flour a work surface and scrape the dough onto it.

Cut the proofed dough into 8 pieces.  An easy way to do this is to first roll it into a cylinder, section the cylinder into four similar-sized pieces and cut each of these in half. 

Take each piece and fold dough edges to the underside to form dough balls or roll them between your hands.

Allow the dough to rest and rise at least 20 minutes.

Roll the dough balls one at a time with a rolling pin to a diameter of 6 to 7 inches.

Bake them on a frying pan or griddle over medium heat until slightly browned on each side, about 3 minutes per side. Use two frying pans to halve the cooking time.
Watch the video demonstration.
Subscribe to the Domestic Bliss blog for more delicious recipes and videos
Learn more about the Dome Dough Maker