Get out the cookie cutters and make these delicious and festive cookies. These are easy to make and taste almost exactly like classic non-vegan sugar cookies. Both cookies and icing are completely vegan. The usual egg binder for cookies is replaced by a smidgen of water.  No need for a binder like flax seed. Water activates the adhesive quality of the gluten in the flour so the cookies hold together. Just make sure you add the water last so the cookies stay tender. And do use the dome to help you blend the somewhat stiff ingredients before you add liquid.
I've chosen to use a vegan butter substitute instead of coconut oil or other oil for the buttery taste.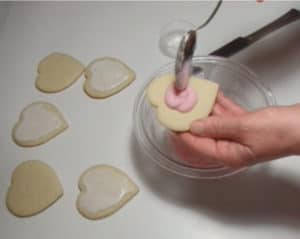 Cookie Ingredients
½ cup + 1 tbs. vegan butter
1/3 cup + 1 tbs. sugar
1 tsp of vanilla
½ tsp of salt
1¼ cups of all purpose flour
2tbs + 1 tsp of water
½ tsp baking powder
Icing Ingredients
1 cup powdered sugar
1 tsp coconut oil
1 tbs to 1½ tsp almond milk or water
vegan food coloring
1. Place the vegan butter in a mixing bowl and add sugar and vanilla. Then cream these together until well blended.
2. Add the salt and blend some more.
3. Add the flour directly to the butter/sugar mixture and push all the ingredients together with the dome. It does a great job of blending these ingredients before you add the liquid. Once you do add liquid, the gluten in the flour will activate and make the cookies a little too hard. So, do as much blending beforehand so you can limit the amount of mixing after liquid is added.
4. Combine the baking powder and water in a small bowl and stir well to dissolve the baking powder.
5. Sprinkle the water over the mixture and blend just until dough-like. Don't over mix.
6. Chill in the refrigerator for twenty minutes.
7. Divide the dough in half and return one half to the refrigerator. Roll out the dough to about 3/16th inch thick. Cut the dough with a cookie cutter. A spatula will help lift the cookies onto the baking pan. Place them on the pan, leaving space between the cookies. Finish rolling out all the dough
8. Bake 400° F for 6 – 8 minutes. Don't over bake them. The cookies should be just set but not browned.
This recipe makes about 15 cookies. The recipe can be doubled if you'd like to make more.
Click below to watch the video demonstration.
Learn more about the dome dough maker
Subscribe to this blog for great baking tips and recipes