This vegan chocolate chip cookie recipe makes very chewy and tender cookies. They're just as delicious and addictive as the classic non-vegan version. They're easy to make too in one bowl. I've chosen to make these with refined coconut oil, a simple oil with minimal processing. I've chosen baking soda for leavening to encourage a little bit of spread during baking.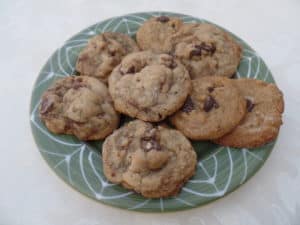 Ingredients
½ cup coconut oil (3.6 oz)
½ cup of dark brown sugar (4 oz)
1/3 cup of white sugar (2.33 oz)
1 tsp of vanilla (0.16 oz)
½ tsp of salt ( 0.1 oz)
1 cup + 2 tbs of all purpose flour (6.25 oz)
2 tsp cornstarch (.18 oz)
½ tsp of baking soda (0.08 oz)
2 tbs + 2 tsp of water (1.38 oz)
½ cup of chocolate chips (3 oz)
1/3 cup of walnuts (2 oz) (optional)
1. Soften the coconut oil by placing it in a bowl and then placing the bowl in a bath of hot tap water.  Let it stand until the oil is softened. Click to watch our very short video on softening coconut oil if you'd like. If your oil is liquid at room temperature, you can use it in liquid form.
2. Add the brown sugar, cane sugar, and vanilla to the coconut oil and blend until uniformly creamy.
3. Mix the flour, baking soda, salt, and cornstarch in a separate bowl and push all the ingredients together with the dome until well blended. The mixture will be dry, but resist the temptation to moisten it. Adding liquid will activate the gluten in the flour and the cookies won't stay tender. The cornstarch also discourages gluten formation. Keep blending the mixture until uniform.
4. Finally, add the water and stir until the dough is just evenly moist. Be careful not to over mix it.
5. Add chocolate chips. Optionally add minced walnuts, pecans or almonds.
6. Chill the dough for twenty minutes.
7. Bake 375° F for 8 to 10 minutes. The cookies should be set but not browned.
Watch a video demonstration for making these cookies.
Learn more about the dome dough maker.
Subscribe to this blog for great baking tips and recipes.